A Quick Summary : In today's digitally driven world, outsourcing web development is becoming more popular. Having an internet presence is required no matter what kind of industry it is. Because people want to know what a company does, how it may improve their lives, and why they should buy its goods or services, websites are essential. Due to this, operating without a website result in lost chances for marketing, income, and consumers. Therefore, if you're building a website, a key choice is whether to engage an internal web development team or outsource the work to an outside firm. We'd advise outsourcing.
Websites are a major source of new business for businesses. Furthermore, they aim to talk about what they do by maintaining an internet presence. A future without digital platforms for businesses to use is difficult to envision. Customers who are going to spend time, money, and effort on a business first Google "about the business." In conclusion, learning about web development is a good idea. But how to build a website is the real question. A company has two alternatives for website creation. The first step is to outsource to a web development firm. Second, assemble a staff of internal web developers. It's challenging for a business owner to select one of the two possibilities. Most companies now choose to outsource their expertise.
Web Development
Web Development is the design, implementation, and management of websites. Website development also covers database administration and web programming. The term "web" in web development refers to a web page or a full website on the internet. The core tools for creating a website are HTML, CSS, and JavaScript.
Web Development Outsourcing
Web Development Outsourcing is engaging a web development business or third party to create the website since they have a skilled web development team. In a nutshell, the outsourced firm is your partner and an expert in handling web development tasks.
A business owner may wish to outsource web development for several reasons. Let's have a look.
Benefits of Outsourcing to a Website Development Company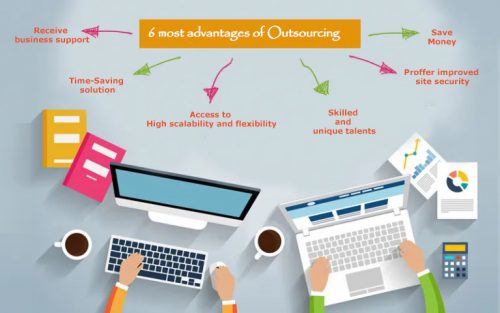 There are numerous advantages of outsourcing web development including lowering operating expenses and the time it takes to develop new products and introduce them to the market. When compared to hiring outsourced developers or creating an internal team, many business owners commend the benefits of outsourcing website development.
Web Development Outsourcing Company can help you save money by hiring an internal web development team. Save your money, in essence. First off, you won't have to pay for the talent's first acquisition. An Small-Medium Business (SMB) may find it difficult to handle the upfront money for hiring and retaining an in-house team. Outsourcing a web development firm might assist you to get the task done at a fraction of the cost of employing and maintaining an in-house staff. To discover a web development team that is affordable, outsourcing is recommended.
Skilled and unique talents
Another benefit of outsourcing web development companies is having access to a large skill pool. When you outsource to a web development business, you have access to resources that benefit your project.
The team of highly skilled specialists will already consist of:
-Quality Assurance Engineer
-Software Architect
-Business Analyst
-Project Manager
-Frontend Developers
-Backend Developers
-Web Designer
So, there is no need to spend time and money employing developers full-time.
Access to high scalability and flexibility
A Web Development Outsourcing Company recruits people for a variety of positions, including web designers, QA, frontend developers, backend developers, and UI/UX developers. Every employee they bring on board has a wealth of professional experience and expertise. When the timing is right, these experts bring excellent abilities to the table. Additionally, they keep up with emerging technology, industry trends, and other issues. This implies that the success of your endeavor is certain. They already have expertise in using the newest development technology stack to build cutting-edge websites and resolve web development-related problems.
It is a time-saving solution
Your time is always limited while creating a website. You thus need professionals who can meet deadlines and follow a schedule. In-house teams may struggle to manage deadline monitoring and make mistakes that take a long time to fix. Keep in mind that no company can afford to squander time attempting to fix mistakes or prevent disasters in today's fast-paced technological environment. So, for agile development, it is important to work with qualified experts. Our recommendation is to hire a web development company that will help you outsource so you can save time, complete the project on time, and show a flawless website!
Proffer improved site security
You may decrease site security difficulties and lower risks with the aid of a seasoned, full-service web development business. Security on your website is crucial for both you and your consumers. Therefore, you require someone reliable to work on maintaining the data's security.
If your website is hacked or suffers a data breach, it might be expensive for you. It might be surprising, but you indeed need an efficient team that can:
-Communicate guidelines properly
-Manage the project with higher standards
-Is capable of mitigating the risks
-Shares web development updates with you regularly
-Has an on-point project planning
The company you hire to outsource your web development should be willing to make a long-term commitment. The team, responsible for developing the website for the company covers all technical aspects of the project in addition to the overall project objectives.
Moreover, a committed outsourced web development team can become a helping hand for:
-Market research
-Competitor analysis
-Project concept preparation
Disadvantages of hiring an in-house web development team
Increased costs: It costs money to employ an internal web development team. Taxes, Rent, License Costs, and other expenses are also included in the total cost of recruiting the crew in addition to the six-figure wages paid each month.
Employee turnover: Because web developers frequently switch jobs for better salaries and working circumstances, you can have trouble keeping your workforce. The process of hiring new developers takes time and effort.
Local talent shortage: This is the most common and frequently found problem. Furthermore, there may be difficulties with the money or necessary soft skills even if you find someone qualified for the position.
Myths about Outsourcing Web Development
Offshore web developers are known for finishing projects quickly and performing their work excellently. The market does, however, also spread false notions about outsourced employment.
Now, let's crack some misconceptions about web development outsourcing services.
Lack of intercultural communication


Outsourcing web developers may raise concerns about different cultures, poor communication, and perspectives. By working with a reputable and competent web development business, it may be avoided. Select a business that has completed projects for several clients in the past.

Language barrier


The language barrier occurs when you hire web developers from outside who speak entirely different languages. However, if you hire an IT business that communicates in a worldwide language like English, it shouldn't be an issue.

They can leak your private information


It is completely untrue. Any professionals with extensive experience in the field and connections to diverse clientele will never engage do fraud. Their reputation is a worry to them. To be secure, sign an NDA and other privacy agreements that can protect your secrecy if you want to be on the safe side.
Process for Outsourcing Web Development Projects with Genesis Web Technology
Connect with a concerned team member of our company: Get in touch with our concerned team to begin outsourcing your web development project to Genesis. This interaction will aid in your understanding of each phase. To ensure that the team can assist you with a successful outsourcing procedure, you must first discuss your requirements with them.
Sign NDA: Signing an NDA assures that the details of your project are safe with us and helps to maintain transparency throughout the web development outsourcing process.
Selecting a team: You now have the freedom to pick your team by interviewing each potential team member. Undoubtedly, we have a pool of engineers with experience in different web development technologies and industry verticals, and we can assist you in assembling a strong and committed team to work on the outsourced project. However, you have the freedom to select the team member who will be responsible for your project.
Select engagement models: The next crucial step is to select the engagement models that best suit your needs. We provide a variety of customizable engagement methods. For instance, you may select price structures or engagement models based on your project and level of flexibility. You can talk with us if you're unsure, and we'll assist you to choose the best pricing models.
Work begins: Yes, the procedure is complete, and now you can turn your attention to your primary business goal while the committed staff at Genesis works on your project.
Why is Genesis a Good Web Development Partner for Outsourcing?
Stop !
We provide you the best website development services at the most affordable costs..
— Affordable, modern, and high-quality web development.
— Our intentions go beyond monetary gain, thus we operate with transparency.
— Our skilled developers have in-depth understanding of creating dynamic websites.
— Our outstanding after-sales support is the factor for our popularity.
Outsource Now
You may get a lot of advantages through Genesis ! We are a group of experts committed to providing competitive websites. Our operations continue to be driven by efficiency and timeliness. So why are you holding back?
Find out more about web development outsourcing. We are eager to assist your company in a million different ways, so connect with us right now and speak with one of our professionals!