Startup Branding
Startup Branding is important but most startups don't want to invest in branding in the initial phase rather they put it off for the time being. In essence, the importance of startup branding is on par with that of established corporations, if not even more so. In this article, we'll discuss the value of branding for new businesses and how a reliable startup branding company can assist you in developing the ideal brand identity.
About Branding
Generally, Branding refers to a marketing tactic that seeks to familiarize you with your target market while also assisting others in understanding and engaging with your message, products, and values. Your potential customers will be far more likely to select you over your competitors if you do this since you can make a lot better impression on them. Building your company's brand entails coming up with a catchy business name, a distinctive logo, a message, and a variety of other designs.
The finished product or branding must accurately reflect the firm and the impression you want your clients to have of your enterprise. Additionally, as a startup, having a distinctive brand identity might help you attract potential partners who can speed up your company's growth.
The Importance of Startup Branding
In actuality, many new businesses don't bother with appropriate branding and instead choose to mimic their competitor's identities or simply choose something generic. This could work as a temporary solution, but it probably won't be enough to successfully market any products or services in the long run. Even if you offer the best & affordable prices, clients still make the majority of their purchases subconsciously based on brand associations and their perceptions of your company.
Even if your competitors have somewhat better pricing or more marketing expertise, if you work with a fantastic startup branding company, you will probably be able to win over clients.
This factor is particularly important for startups because the majority of their direct competitors are larger firms with greater resources, staff, and marketing expertise. However, with the appropriate identity, your startup may defeat large established companies/competitors and grow more swiftly.
Best Startup Branding Practices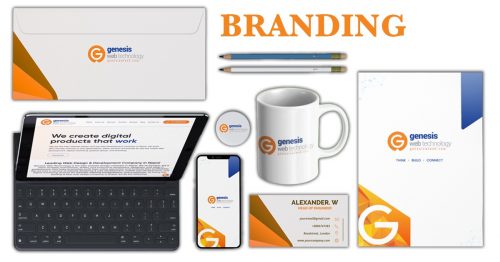 You must tell a Story about how it all started
Why did you initially decide to start a business? First, did you have any concepts for the logo? What or who motivated you at the time? You are the founder of your startup, so your story of yours may help in knowing the inspiration for doing this business.
This will be able to personalize your brand and bring a lot of anthropomorphous character to your business. People tend to relate more to the people behind the firms than the company themselves.
Create a Voice
It's time, you thought about the tone of your brand. When you consider the mission of your startup, what is the first thing that comes to mind? Pick a few keywords that best describe your origin from the list of ideas that come to mind while thinking about the story we just discussed in the above step.
Choose a Name that will represent your Startup
The ideal name that will represent your company would be difficult to pick, but with the assistance of a reputable agency for startup branding, it is possible and easy too.
While picking the name, a few things need to be considered:
It should be simple to spell the name.
Also, it should be simple to remember.
Choose something that won't limit your startup. Just imagine what would have occurred if Bezos had chosen the name "OnlineBooks" for his business rather than "Amazon"?
Confirm that the name is permissible to use so that you don't have to deal with copyright matters.
Choose only if it is based on the tone of your brand.
Be clear about your Mission Statement
This should act as the cornerstone of your company's internal culture going forward, which will also guide all of your marketing initiatives and products. Ensure that the tone of your brand and your mission statement is aligned.
Your company's mission statement should outline all of its goals and how it hopes to benefit society.
Don't overdo it; be succinct and utilize the absolute minimum to explain your company and the impact you seek.
Choose the Brand Color: the Right One
It's not the ideal course of action in choosing your brand's primary color from your favorite color list. Startup Branding is far more complicated than choosing a color, or name.
Instead, choose to make mood boards that may help you choose which colors will work best for your startup. Additionally, the tone of your brand may be able to assist you in choosing a suitable color scheme.
However, using the assistance of qualified designers from a startup branding company and their expertise in putting clients' needs and words into colors would be helpful to you and the branding of your startup.
Design a simple yet catchy Brand Logo
Your startup company's logo serves as the most identifiable representation of your brand identity and serves as the face of your company.
Creating a logo may be difficult, so unless you are an expert designer, you shouldn't tamper with it. As far as you can, assist the professionals and let them manage the task. Talk to them about your ideas, and show them the collected logos as a part of reference or inspiration. This way they will be able to perfectly carve out your thought in form of a logo.
The logo with too many elements inside is not what people remember, rather the logo that is simple and clear makes its place in the viewer's mind. So, ensure that the outcome is suitable, distinctive, and most importantly, simple.
Think and choose the best Typography
You simply cannot rely on your gut instinct when selecting the appropriate typeface to represent your business. You must consider context, function, and a plethora of other important elements.
The brand's voice, logo, personality, color scheme, and other elements will all be important factors in determining the typography.
A graphic designer, much as they can with your logo, may be of great assistance to you in choosing the appropriate typeface. This is one of those chores that is best left to professionals for the best outcomes.
Make a Style Manual
Once everything is finished, it's time to record all of your hard work in writing. This recorded list is what your style manual is.
What makes this so crucial? This book will essentially act as a law that establishes guidelines for anybody who ever works on your reputation and will aid future staff members in better understanding your internal culture.
Maintain Consistency
After you've completed the fundamentals of your startup branding, you still have a lot of work ahead of you. Fortunately, your brand manual or style manual will be useful later. Every additional item of media, including business cards, corporate t-shirts, posters, and digital assets like blueprints, tutorials, and whitepapers, should be in direct alignment with your brand identity.
This is why you must establish your style manual with accuracy and depth. With a strong brand manual, all design jobs moving forward will be simpler, and your designers will provide the essential visual identity efficiently.
Working With a Startup Branding Agency
As you can see from the above, there are several elements to developing a strong brand image that just requires the skilled touches of a professional. Thankfully, Genesis Web Technology can meet these particular needs and are expert at assisting businesses in developing their branding strategies.