What is Visit Nepal 2020?
Nepal Government, tourism associations and organizations are planning 2020 as the Visit year aiming to welcome at least 2 million tourists. Visit Nepal 2020 is the common mission/campaign of Nepal to boost the Nepal tourism after the earthquake in 2015.
Government has a history of successful campaign of Visit Nepal year 1998 and Nepal tourism year 2011 to promote tourism. Visit Nepal 2018 campaign was announced in 2015 soon after the Earthquake to spread the message to the world that Nepal is safe for tourism activities. Later on, it was postponed to 2020. The campaign was postponed due to delay in construction of airports in Pokhara and Lumbini, re-construction of heritage sites, roads and other infrastructure.
Visit Nepal 2020 Slogan
 "Lifetime Experiences"
Visit Nepal 2020 Logo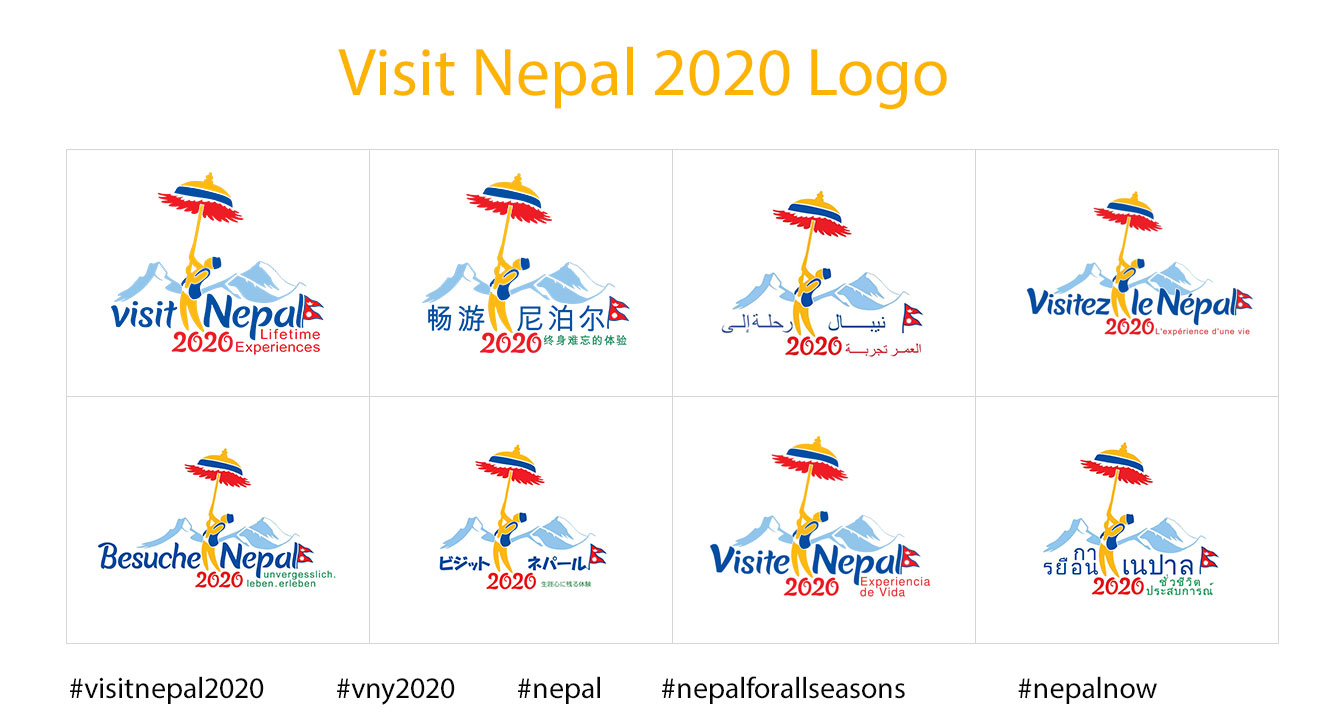 What to do in 2020?
The travel activities whatever you choose depends on your mood. If you like adventures, you can join trekking, hiking, bungy jumping, rock climbing, peak climbing, paragliding, zip flyer and many others. If you like culture and visit places around the jungles and cities, you can go tours and sightseeing. Mountaineering is an epic adventure that takes you to the high Himalayas above 8000m, you need to prepare much for this activity.
Where to go in 2020?
There are many beautiful places in Nepal that can attract you for traveling. From high mountains above 8000m to lowlands to 60m, Nepal has geographical diversity within few kilometers. More to know, Nepal is also the land of culture and festivals. The people from different culture, religion and languages live together with peace and harmony. So, you will have opportunity to explore the ethic mountain villages to tropical jungles in the lowlands.
The main tourism places in Nepal are Kathmandu, Pokhara, Chitwan, Lumbini, Janakpur, Nepalgunj, Everest area, Annapurna area, Lantang area, Makalu area, Kanchenjunga area, Dolpo area, Mustang area and Manaslu area.
Within few days, you can travel these beautiful and stunning places and explore the adventure extremity. For traveling around the city areas, you can travel via Car, Jeep, Bus, Aeroplane and helicopter as per your choice. But for the mountain area, you should walk on your own foot. Nowadays, most of the Himalayan areas are connected with roads and trekking itineraries are shortening.
Why Visit in Nepal in 2020?
Nepal is world in itself. You can experience most of the adventures in Nepal that are available in other countries. You will have excellent experience of weather and climate that are favorable for traveling.
There are few reasons why you should visit Nepal in 2020, here we go.
Culture and history
Nepal has 10 UNESCO listed World Heritage Sites combing cultural and natural. Boudhanath Stupa, Pashupatinath Temple, Swayambhunath Stupa, Kathmandu Durbar Square, Patan Durbar Square, Bhaktapur Durbar Square, Changu Narayan Temple are the cultural World heritage sites in Kathmandu valley whereas Lumbini resides in Kapilvastu district outside the Kathmandu.
Similarly, Chitwan National Park and Sagarmatha National Park are the two national parks that are listed in natural world heritage sites list.
The Glorious Mountains
There are 14 highest mountain peaks in the world above 8000m and among them 8 are in Nepal. The world's highest mountain peak Mount Everest (8848m) lies in Nepal-Tibet boarder in Solukhumbu i.e. Khumbu area. The other highest mountains are Mt. Kanchenjunga (8586), Mt. Lhotse (8516m), Mt. Makalu (8463m), Mt. Cho Oyu (8201m), Mt. Dhaulagiri I (8167), Mt. Manaslu (8156m), Mt. Annapurna I (8091). There are many other mountains that are above 5000m-8000m.