Website Redesigning sounds like a heavy, expensive, and unnecessary task but it is the most important thing that needs concern eventually.
"An outdated website results in a negative impact on your business."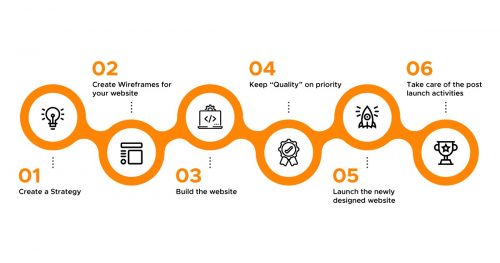 Your website may be running smoothly and has been for several years. So, why should you consider website redesigning in first place. The question remains here, "Could it look or function better?".
Let me ask you a simple question,
"Have you ever visited another company's website and been completely stuck at what you saw there?"
Some websites are simply so wonderfully designed that you can't help but be amazed and want to spend some time browsing and exploring them.
Before jumping to the reasons, let us know about the Benefits of website redesigning.
 

Branding Improved


A new website will assist to establish your brand's consistency. Your website will encourage trust and brand identification among customers with a modern design. Ultimately, such redesign may do wonders for your brand-building endeavors.
If your website seems cheap and old, does not function properly, or delivers a poor user experience, it may put off potential clients. A website redesign helps maintain your business relevance and strengthens your brand image with a great impression.

Better rankings in search engines


A well-designed website also implies improved SEO. In reality, your website's redesign should include search optimization from the coding to the final responsiveness. Finally, this will help you climb the SERPs, resulting in more organic visitors. Visitors will browse your site and check out more pages if your site structure is improved, with low bounce rate.
Finally, a well-designed website may attract more backlinks. This will provide you a strong push for even better Google ranks and increased referral traffic.

Improved flow of information


The main goal of a website is to offer information that encourages visitors to take the required action. Whether it be by informing them about your business, and your founder's background, or simply by providing them info about your products and services.
Naturally, people expect to always have the information they need in front of them. Additionally, you need to have an effective information flow so that people thinks about your products and buy from you.
When you redesign your website, you may try your best to organize and arrange your content so that people can naturally move from one page to the next and locate everything that matters.

Increment in revenue and costs reduced


A website redesign increases your income by enhancing brand consistency & rankings, and directing visitors to conversion events. Likewise, it also reduces your costs. After you complete a thorough redesign of your website, you get the chance to assess your CMS (Content Management System) and hosting. A brand-new website can also function considerably faster for all visitors using much less server space.
Additionally, website redesigning is more economical than regularly fixing functionality problems and adding new features. It's preferable to start over completely rather than adding a lot of band-aids to your current website. The most crucial benefit of all is that a website redesign will reduce the expense of missed chances and lost money brought on by your outdated, clumsy website.
The well-designed and perfectly developed site will create a vibe around and enable viewers to either access the service from the site or return in the coming days. The appearance and feel of your website will make a first impression on many of your prospective prospects.
We've developed a list of convincing Reasons why you should consider redesigning your website.
Your website appears outdated or unreliable


Whether you like it or not, almost 75% of consumers make their decision about the legitimacy of your company purely on the way your website is designed. So, redesigning your website will have a good information flow about your company, product/services, and motto. This will help in building a trustworthy environment.

Your website's foundation is weak


If you're spending more money on band-aid fixes on issues than on creating new tools for functionality and content, you probably have core flaws that will wind up costing you more in the long term than if you had just constructed a new website.

Issue 1:

Your website isn't speed-optimized


Did you know that 40% of users would leave a website if it takes more than three seconds to load. And, 47% of visitors expect a website to load in less than two seconds?. Google's algorithm now takes website speed into account to favor those that load quickly.
Issue 2:

Your CMS Lacks SEO-Friendly Features


Although, Google traffic is significant, it's surprising that all CMS don't allow their customers to optimize websites for search engines. If your website depends on Google traffic and your existing CMS is not SEO friendly, we advise breaking your connections with it and redesigning your website in a CMS with best-in-class SEO capabilities integrated into its functionality.
Issue 3:

You Don't Have a Responsive Website


Internet usage on mobile devices has increased dramatically. And since this tendency is expected to last into the future, a mobile platform is essential. No matter from what platform users access your website, it is responsive if it can handle them all. Google reports that 61% of consumers are unlikely to return to a website that doesn't function properly on mobile. And, 40% consumers left the site and visits competitor's website. You run a great risk of losing leads and consumers if your website isn't responsive yet.
Issue 4:

Your Website Is Complicated to Use


The usability of your website may have both good and bad effects on how it is managed, as well as on how it is received by users. The time it takes you to update your website and the money it costs to hire someone to update it adds up over time and can end up costing more than if you simply rebuilt it from the ground up.
Issue 5:

Adding Functionality Is Tough


Your company should concentrate on well-designed functionality. Your attempts at generating leads and organic traffic can suffer if it isn't. If your website is like the majority of others out there, you have integrated third-party widgets and tools like shopping cart widgets, email marketing forms, and landing page tools.
Issue 6:

Poor user experience on your website


You've probably visited a website that, to put it mildly, frustrates you when you try to use it. This may seem obvious. By offering a great user experience, you ensure that the user has a positive overall experience from the moment they first visit your website until they convert.
Two broad methodologies are involved in creating a great website experience:
User interface (UI) Design –> If your visual representation is intuitive, consistent, and meets your user's expectations across devices, you have a great user interface.
Information Architecture (IA) Strategy –> By organizing your website in a way that meets user expectations, you have a great information architecture.
Correcting these two issues might be the difference between a visitor staying on your website and converting and one who leaves in frustration and visits a competitor's website.

Rebranding your business
Another strong and apparent reason to start considering a website redesign is a brand upgrade or rebranding of your business. You may have changed your logos, brand messages, content, product/services, and many more. So, for consistent appearance & feel and reflect any significant changes to your identity, it's imperative to redesign your website.
You presumably already know that your website serves as the foundation of your company's online presence and has a major influence on how people perceive your brand. Being consistent across all of your marketing platforms and consumer touchpoints can help you stand out from the competition. By doing this, you'll be able to draw in more clients and win their loyalty and confidence.
If you feel your existing website doesn't accurately represent your brand or if you want to modernize your brand then it's time for your website to be redesigned.
The website of your competitor makes you envious


You don't have to rebuild your website each time one of your competitors does. However, it's crucial to remember that your company does not operate in a virtual vacuum. If the quality of your website is worse than that of your competitors, you are probably losing business to them.
Conclusion
Don't be afraid to make improvements to your website, even if it means spending a lot of money. The results from such modifications will be fantastic. If you still aren't receiving the outcomes you want from your website, even if it is pixel-perfect, practical, and stunning, it isn't serving its intended purpose. To establish your brand, promote your company, and ultimately boost sales, you need a website. If your results are unsatisfactory, it's time to consider a redesign. Please don't hesitate to get in touch with us. If you need assistance with designing a professional website, redesigning it, or doing a whole overhaul, Genesis is here for you.