If you are looking for developing your website or blog posts in WordPress. You must know what actually is WordPress. If you are a beginner then this blog post will help you to know about WordPress
What is WordPress?
Table of Contents
What is WordPress?
What is Content Management System?
What are Blog posts?
What are posts in WordPress?
What are Pages in WordPress?
What are the Benefits of using the WordPress Platform?
WordPress is a content management system used to develop and maintain websites which is written in PHP and paired with an MYSQL database.
WordPress provides a web-based user interface for publishing, updating, and designing websites.
If WordPress built-in capabilities or features are not sufficient for your needs, you can install different plug-ins that provide extra features.
If you don't want to develop your website using WordPress built-in theme then you can install or activate different theme that looks better and give extra features.
What is Content Management System?
A content management system (CMS) is an application or software which is used to manage, creation and modification of digital web content.
Content management systems are typically used for enterprise content management (ECM) and web content management (WCM).
What is a blog post?
The blog post is an entry point where you can write your own article which can be any topic.
It can include content like a form of text, photos, infographics, or videos.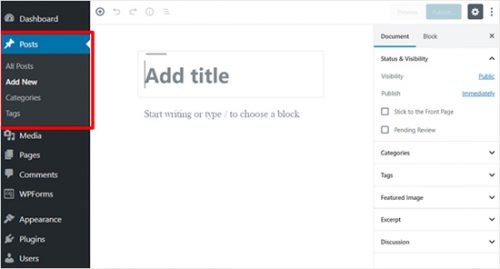 What are posts in WordPress?
Posts are blog content of the website which is listed in reverse order (newest content on top).
Posts contain one title, one content or post descriptions, one featured photo and you can select a category of post.
You can add and edit your posts from the 'Posts' menu in your dashboard. Here is how Add New Post screen looks.
What are Pages in WordPress?


Pages are static content page types such as your about us page, privacy policy, contact page, etc.
You can add and edit pages in WordPress from the 'Pages' menu in your dashboard. Here is how to Add New Page screen looks like:
What are the Benefits of using the WordPress Platform?
User-friendly Even for Beginners
A WordPress site can be installed and set up and run in some minutes.
WordPress can be installed and freely downloaded through WordPress through WordPress.org.
Even beginners can set up WordPress and make pages and create a new post using WordPress CMS.
WordPress themes offer multiple options
WordPress themes give users to select for the fine appearance and function of the new site. Themes can be previewed live and installed at any time to change the look and layout of your WordPress site.
Plugins give you more Functionality
WordPress provides all the elements needed to create a basic website, but many other users want more specialized functions related to a website specific need. But users can install plugins from the plugins menu.
WordPress Sites Rank High
Searchability is key to ranking high on Google and other search engines. WordPress includes a variety of tools and plugins for optimizing content for SEO (search engine optimization).
WordPress Sites are Mobile Responsive
Your websites need to look good and attractive on any device. WordPress offers a variety of responsive theme designs, and users can also make the static site responsive with plugins and adjustments to theme files.